When you're planning new construction on a parcel of land, there are a lot of considerations.  Many of those will regulate where you can place your building.  It's not surprising that commercial construction comes with a long list of requirements, but even residential homes in rural areas are subject to several rules, like setbacks, easements, and no-build zones.  It's good to understand how these will impact your build before you are set upon placing your building in a specific location.
Setbacks
Many municipalities have an overall vision of how their commercial and residential neighborhoods should look.  This may impact the direction your home can face or how tall the highest part of your structure can be.  Setbacks, or building lines, are intended to create a uniform appearance along a street and help prevent one home from blocking the view of its neighbors.  A setback is the distance the front of your house must be "set back" from the property line (or, in some cases, the street curb).  The setback rules may also apply to fences and other structures.
It's important to know if a setback provision applies to your property, and if so, if the setback distance is measured from the curb or your property line.  Typically, a setback is between 20 to 40 feet from the front property line.  For homes with attached garages that stick out in front of the structure, this may limit any extra length you want to add to the front of the garage.
Many subdivisions also have sideyard setbacks that set a minimum distance a structure can be built to the side property line.  This is intended to keep a sufficient distance between homes, which helps increase privacy and can limit damage from a house fire.
Easements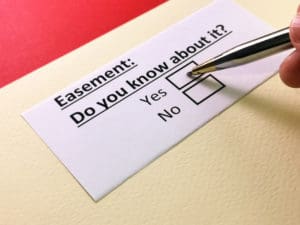 Easements are pre-determined areas of a parcel of property that technically do not belong to the property owner.  While the property owner is usually allowed to use the land for a non-permanent purpose, the rights to the land belong to the city or a local utility company.  These easements can be located anywhere on a piece of property–not just along the road.
For example, the city may have an easement for the first 10 feet of property from the curb for sidewalks, greenways, or if the road needs to be widened in the future.  A utility company may have an easement to a section of property that is over buried electric lines or sewer pipes.  At any time, these entities must be able to access the easement and dig into the ground if necessary.
Sometimes homeowner associations (HOAs) will have private easements in subdivisions.  For example, a housing development may have walking paths or bike trails accessible to the community.
No-Build Zones
No-build zones are usually defined by the city and are intended to protect natural areas.  For example, a city could have a no-build zone in a forested area to preserve the greenspace.  While these are rare, the rules about a no-build zone can be tricky.  The restrictions in a no-build zone may extend past limiting building structures to restrict temporary structures like swing sets, sheds, or even firepits.
If you're considering purchasing land, consult with experts to determine how you can use it.
Before you sign the dotted line on the purchase agreement, consult with Richard Stevens & Associates.  We're a land-use consulting firm located in Medford, Oregon.  Our team can guide you through obtaining rural and urban land use planning permits throughout all Southern Oregon counties and beyond.  With expertise at your side, you'll be able to navigate the complex systems to obtain the land use permits you need for your next project.  Give us a call at 541-773-2646 to get started!