If you're a Southern Oregon land owner, you may wonder if you can post promotional signs on private property. For example, property owners want to place signs to promote political candidates or their support of political or religious views. The answer is usually yes; you can post signs on your private property, but you need to follow certain rules and regulations.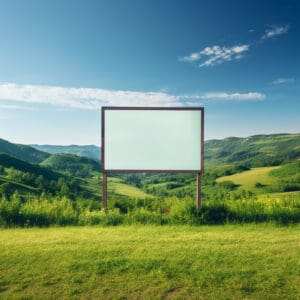 Before investing time or effort into placing signs on private property, it's best to research city and county laws that regulate land usage in your area. Easier yet, contact the experts at Richard Stevens and Associates to ensure you have all the information you need about land use regulations impacting your property. Here's a brief overview that addresses common rules that you may come across in Southern Oregon related to signage on private (not commercial) properties:
Examples of Oregon Laws Impacting Posting Signs on Private Property
Many regulations in Oregon impact the types or sizes of signs you can post on your private property. The following are just two illustrative examples.
Outdoor Advertising Program
Oregon's Outdoor Advertising Program regulates signs on private property that are visible from a state highway. These laws regulate the placement of signs to protect our state's unique beauty and to improve driver safety by reducing the visual distractions that signs can cause.
You will need to obtain a permit from the State if:
You are placing the sign on private property that is not a place of business or a location open to the public. If you are a business or location open to the public, your sign may be subject to other rules within the applicable zoning laws.
You are receiving compensation for posting the sign regardless of whether it is private property, a business, or a place open to the public. "Compensation" includes money, goods, or services, forgiveness of a debt, consideration of a past or future action or payment, or services to erect the sign.
The Outdoor Advertising Program provides some exceptions for temporary signs. These include signs that are up for less than 60 days in a year, are no more than 12 square feet, and not posted for compensation may be exempt from needing a permit. There is more information about temporary signs in ORS 377.735.
Medford's Campaign Signage Regulations
Individual municipalities throughout Oregon may have specific laws regulating signs on private property, for example, campaign signage. The City of Medford, Oregon has these rules:
For placement of political signs on private property, property owner permission must be obtained, and the following standards apply:
1. Political campaign signs no longer require permits. They may be erected no earlier than eight weeks prior to any federal, state, or local election and removed no later than seven days after the applicable election.
2. Signs are limited to being six square feet of area and six feet tall in residential zones. In commercial and industrial zones, they are limited to 32 square feet in area per sign.
3. They must be placed behind the sidewalk (even if there is a grass strip between the sidewalk and the street) or placed behind the curb if there is no sidewalk. The signs should not hang into the street, and if at an intersection, must be beyond the location's site distance triangle (so as not to obstruct the driver's visibility.)
Take the guesswork out of what you can do with a call to Richard Stevens & Associates.
You can see from this very brief overview of just a few laws that impact signage in Oregon that the rules can be complex and overlapping. Richard Stevens & Associates are your experts on land use and zoning regulations that affect your private and commercial property. Whether you're considering purchasing a new plot of land or figuring out what you can do with what you already own, our team will help you understand how to navigate through all the land use laws in our area.