Whether you own a piece of property already or you're considering purchasing land for new development, you may be wondering if you can cut down one or more trees for a variety of reasons.  Trees are essential to our natural environment: they help convert carbon dioxide to oxygen, serve as a habitat for wildlife, and contribute to shade and noise reduction.  Because a mature tree can take a decade or more to grow, existing trees are often protected by municipal land use codes.
Ashland, Oregon, has particular land use provisions in place to regulate tree pruning and removal.  For the most part, owners of single-family homes in residential zones can remove trees from their yards without obtaining a permit.  However, if the residential property is home to multiple families, the city recognizes that tree removal impacts many people and may require a permit for removal.
Land that is not zoned as residential or has yet to be developed often requires a city permit before significant alterations are made, including tree removal.  In some cities, laws require a tree to be planted to replace each tree removed to maintain vegetation.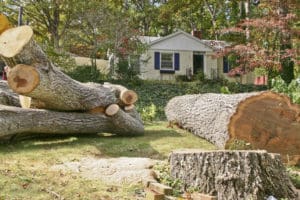 Other laws that can impact tree removal are those concerning "historic trees."  Some locales identify old, mature trees that they feel have historical significance to the city.  In many cases, these trees are 100 years old or more.  Historic designations prevent the destruction or removal of these trees and may require routine inspections by professional arborists.
Certified professional tree trimming and removal companies should have expertise in your area regarding any permit requirements.  This is one reason why conducting a quick background check of any company you hire for this work is a good idea.  In Oregon, all tree removal contractors must carry an LCB (Landscape Contractors Board) or CCB (Construction Contractors Board) license to remove trees.  Only contractors with an LCB license may plant trees.  You can verify LCB licenses HERE, and CCB licenses HERE.
If you need more information about development regulations for your property, contact the professionals at Richard Stevens & Associates.  We specialize in assisting our clients with obtaining rural and urban land use planning permits. Our team begins by performing a feasibility and project analysis to determine the best way to reach your land use planning goals.  We'll conduct all the research on legality, concerns, existing conditions, and more to determine which areas need to be addressed in the planning process.  Before you invest money in altering or developing your land, give us a call to ensure you're doing it right.