Southern Oregon is abundant with rural properties: some wooded, some flat and open, and some with natural or man-made ponds. Oregonians enjoy many freedoms that come with owning acres of rural property with nary a neighbor in sight. With so many beautiful properties in the state, a popular question many landowners ask us is, "Can I camp on my rural property in Oregon?"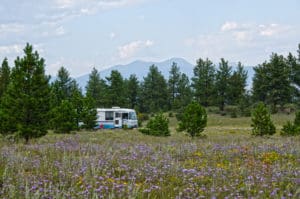 The kind of camping we're talking about isn't whether or not you can pull out a tent and some sleeping bags to take the kids on a weekend adventure in the "back 40." Instead, there are many reasons why Oregonians want to camp for an extended amount of time on a parcel of land. For example,
camping on rural property during home construction on the land.
providing a transitional space for those impacted by wildfire or other disasters to their homes.
allowing a friend or family member to live affordably on excess land to get through financial hardship.
So, can I camp on my rural property in Oregon?
Yes, with a few details to work around, you can camp on your land in Oregon. According to ORS 446.125, camping is permitted on private land.
Here's what you have to keep in mind:
 You have to have permission from the owner. That means this impacts privately owned property where the owner has permitted the camper to be there. Obviously, if the land is yours, you can give yourself permission. But no free-range camping on public property and campers can't just show up and stake a claim on your land either.
Campers must be in a manufactured dwelling or a camping vehicle. That means these rules don't provide permission to camp in a tent or beneath a tarp. You must have a safe structure to live in.
Your camp must adhere to health and sanitation standards. That means the camping area must have an adequate and safe water supply and approved sewage facilities. You'll need to consider installing a water tank and determining whether you'll have a septic system or compostable toilet. You will also need to keep the property clear of garbage and debris. The city can inspect your camp to ensure it meets all the applicable codes.
Your campsite must be large enough to allow for clean water and sanitation standards. This stipulation is meant to prevent landowners from packing a lot full of campers.
This allowance is for free camping. For example, it's perfectly fine for you to allow a friend displaced by wildfire to camp on your property while their family gets back on their feet. However, if you are considering renting out a section of your property for camping, other laws come into play that may require you to have a commercial permit, obtain approvals, complete inspections, and pay taxes.
Your county or municipality may have additional limitations on camping.  A land use consultant can help you learn all the rules that impact what you can do with your specific piece of property.
Do you have questions about what you can do with your rural property in Oregon?
Just because you own land doesn't mean you can do whatever you want with it. Questions like this may not seem like something our laws regulate, but many land use restrictions impact property owners throughout the state. And the answers can alter their quality of life considerably.  
If you have questions about how property in Southern Oregon can be used, contact the professionals at Richard Stevens & Associates. We specialize in assisting our clients with all work related to rural and urban land use planning permits and zoning laws. Before investing money in altering or developing your land, give us a call to ensure you're doing it right.