If you own property, and you have a land use goal you would like to pursue through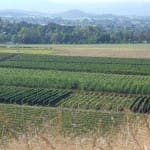 Jackson County, you will go through a lot legality review. It is not uncommon for a property owner to apply for a County land use permit, such as a homesite approval, only to find that their property was not legally created. If your property was not legally created, you will not get the blessing fromJacksonCountyto move forward with your land use goals until the legality is remedied. 
What is Lot Legality?
Think of properties as fingerprints- each one is unique in how it was formed. Just because a neighboring property is legal does not mean yours is, too. Many property owners can be caught off guard when they hear the term 'lot legality'. They have the idea that since they purchased their property legally, their property is legal. However, there are many factors to consider when getting down to the nuts and bolts of lot legality. Just because the deed to your property describes the property you purchased does not mean your property is legal. For example, if the previous owner of your property separated your land from a larger piece of land, and did so without County approval, your property may not be legal. 
Demonstrating Lot Legality
There are many factors to consider when trying to demonstrate lot legality, and the process could involve anything from a simple, quick overview to in-depth research. There are also different outlets to rely upon to prove that your property is legal. You could: 
Try to prove lot legality on your own. Unfortunately, if you are not aware of all of the land use laws, and you don't know where to find the information you need, or even know what you are looking for, this task can be very difficult. Trying to prove lot legality on your own can quickly become a nightmare, and may make you want to give up on your land use goals altogether.
Pay Jackson County to do the lot legality review. However, when submitting an application with the County, even for lot legality (LOT), the burden of proof is on the applicant. One cannot rely on the County to do all of the research to determine you have a legal parcel (or, if you are lucky, multiple parcels). We deal with Jackson County on a daily basis. Through our experiences, we have found you are much better off having us determine the lot legality, and then submitting the LOT application so the County can confirm our determination.
Rely on a land use consultant to do the lot legality review for you. This is by far the best decision to make when you need to prove lot legality. We, as land use consultants, have the resources and experience that are a must for even the toughest lot legality reviews. Our goal is to get you the most out of what you have, so we dig deep when performing our research. In fact, we have been able to demonstrate with multiple cases that a parcel, which was thought by the land owner to be one property, turned out to be three or more separate legal parcels.